Gamesa bags 40 mw order for Andhra Pradesh wind farm from KCT

11 August, 2016: Mumbai, India
The Economic Times
Wind turbine maker Gamesa has bagged an order worth 40 mw project from KCT Renewable Energy to be set up in Andhra Pradesh, the company said in a statement on Thursday.

Gamesa bags 40 mw order for Andhra Pradesh wind farm from KCT

---
Indian Chamber of Commerce - Economique

July, 2016 Edition
Article which has appeared in July Edition of Indian Chamber of Commerce Economique, titled 'India's Power Sector - Will Coal be the Saviour or Villain'

Indian Chamber of Commerce Economique

---
Interview during Coaltrans

2nd – 5th March, 2016: Goa, India
Interview during Coaltrans India in Goa from 2nd – 5th March, 2016

(L-R) Mr R P Ritolia, Advisor, Swayambhu Natural
Resources, Mr V K Arora and Mr B K Saxena,
Ex Director Marketing, Coal India Ltd.


Mr Arora addressing the audience during
the panel discussions held in Coaltrans
Seminar

Interview: VK Arora

---
Interactive Session with Coal Secretary

9th March, 2016
Interactive Session with Mr Anil Swarup, Secretary Coal, Government of India on 9th March, 2016 with Coal Consumers Association of India, wherein Mr Arora represented view points of the industry in regard to the problems being faced by the consumers. Others on the dais are Mr Shashi Kumar, Ex Chairman, Coal India Ltd. and Mr R P Ritolia, Ex CMD, CCL.
| | | | | |
| --- | --- | --- | --- | --- |
| | | | | |

---
No takers, Coal India cancels expensive auction

19th February, 2016: Kolkata, India
DNA India
Coal buyers are of the view that it was done fearing poor demand as the base price set is about 20% higher than the notified prices

DNA News Excerpt

---
Coal Insights Magazine

January, 2016 Edition
New Year Wish List for the Coal Consumers

Coal Insights

---
Coal Insights Magazine

November, 2015 Edition
Resurgence of Germany remarkable after Second World War

Coal Insights

---
Coal Insights Magazine

September, 2015 Edition
History of Coal Mining

Coal Insights

---
Write up published in The Economic Times Newspaper

20 August, 2015 Edition
CII Energy Conclave 2015 – Transforming the Energy Sector Through Policy, Regulation and Technology – 6th Edition of Energy Conclave held at The Lalit Great Eastern on 12th August, 2015.
Mr Arora has chaired Session IV – Indian Coal Sector – Challenges and Future Outlook


---
Coal Insights Magazine

June, 2015 Edition
Logistics Column - Romance and realism of Indian Railways

Coal Insights

---
Coal users demand exit clause in linkage agreement

15 April, 2015: Mumbai, India
DNA India
Firms using coal say long-term linkage contract would be a losing proposition for them in the wake of falling global prices

DNA News Excerpt

---
Underground Rock Caverns Project

7th April, 2015
Pictures taken during various phases of the Underground Rock Caverns Project.
| | | | | |
| --- | --- | --- | --- | --- |
| | | | | |
| Rock Bolting work in progress by Two Boom Drilling Jumbo in the underground Cavern | | Rock Bolting work in progress by Two Boom Drilling Jumbo in the underground Cavern | | Hot oil pipe line Foundation work in progress in the underground Cavern |
| | | | | |
| | | | | |
| Group photograph of SKE&C-KCT JV Execution Team & work force at Mangalore Project | | Face drilling of 3rd Bench in the UG Cavern by Two Boom Drilling Jumbo | | Arial view of Portal/Entrance of Mangalore Underground Rock Caverns |
| | | | | |
| | | | | |
| View of Cavern after completion of Excavation & Paving | | Rock Bolt Grouting work in progress by Normet Charging Car in the UG Cavern | | |

---
ISPRL underground rock caverns Project

5th April, 2015
On 5th April 2015 Hon'ble MOS (I/C) for MOP & NG Shri.Dharmendra Pradhan has visited Mangalore ISPRL underground rock caverns Project along with Mr. SC Khuntia Special Secretary & FA, Mr. DK Sarraf, CMD – ONGC & Mr. BC Tripathi, CMD – GAIL and other local politicians & district authorities.
| | | | | |
| --- | --- | --- | --- | --- |
| | | | | |
| Mr. Adarsh Saran greeting Hon'ble Minister Mr. Dharmendra Pradhan during his visit to Mangalore Project on 5th April 2015. | | Mr. Adarsh Saran with Mr. Rajan K. Pillai, MD/CEO of ISPRL and Mr. Ashwin Soni, Project Director of EIL | | Mr. R K Pillai, MD/CEO of ISPRL explaining about underground rock cavern Project to Hon'ble Minister Mr. D Pradhan |
| | | | | |
| | | | | |
| Hon'ble Minister with Mr. Rajan K. Pillai MD/CEO of ISPRL, Mr. S C Khuntia, Special Secretary & Financial Adivsor of MoPNG, and Mr. D K Sharraf, CMD of ONGC. | | Delegation from Ministry of Petroleum visit the Mangalore Project site on 5th April 2015. | | SKE&C - KCT JV Team - Mr. V S Rawat, Mr. Sanjay Chhabra, Mr. M E Park, Mr. A K Aggarwal, Mr. C H Choi, Mr. J W Yoo, Mr. A K Upadhyay, Mr. R D Sharma |

---
Coal Insights Magazine

February, 2015 Edition
Excerpts of the Interview with Coal Insights Reporter

Coal Insights

Coal Transport

---
8th Indian Coal Markets Conference organized by mjunction – India's premier Coal Conference focused on issues of end users

14th – 26th September, 2014
8th Indian Coal Markets Conference was held at Hotel Hyatt Regency, Kolkata. Mr Arora had made a presentation on 'Happy Days for the Coal Consumer – A Myth or Reality'. He was also the Chairman during one of the Panel Discussion Sessions held during the Seminar.
| | | |
| --- | --- | --- |
| | | |

---
Extract of news published in Indian Coal Market Watch

19th September, 2014
SC's should consider coal supply situation in its final judgement: ICMA

The Indian Coal Merchants' Association (ICMA) hopes that a good sense will prevail in the final judgement of Supreme Court likely to be announced next week on de-allocation of captive coal blocks and also urged the government to revisit its directive to reduce the quantity of coal offered through e-auction route.

The judgement by Supreme Court, declaring all allotments of coal blocks for captive consumption as illegal has shaken the very base of the core industry, the ICMA president, V K Arora, said while addressing the association's 83rd Annual General Meeting in Kolkata on September 19.

"Unless, a workable arrangement evolves out of the final judgement, the very basis of coal supplies to large number of industries may come under cloud. We hope, good sense will prevail in the final judgement," Arora said.

On reduction in e-auction quantity by the government through a directive, the ICMA president said, "E-auction has been meeting the requirements of all consumers which have not had the privilege of having direct linkages or FSA.

"This was a fair arrangement taking care of all the new consumers. CIL, had allocated quantities for e-auction at 10%, which now seems to have been reduced to 5%. This has very clearly rattled the industry at large. Reduction in e-auction coal by 5% does not make a major difference for the power sector, but creates substantial dissatisfaction to hundreds of consumers spread all over the country and the quantities need to be revised," Arora said.

He also pointed that there is a general complaint about quality of coal being supplied by Coal India Ltd (CIL).

"Consumers often complain that the quality of coal delivered to them is at least 3-4 grades lower than the quality charged in the bill. This is happening across the board in almost all the coal companies. NTPC has the strength to fight it out whereas smaller consumers do not have the strength or the means to do so," Arora said.

"There has to be a little more integrity of approach by CIL so that the credibility is well established in the market," the ICMA president added.

---
Cover Story Appeared in Coal Insights Magazine

9th May, 2014
---
Additional Secretary's Visit at Mangalore & Padur Project

9th January, 2014
Both Mangalore and Padur-B Sites were visited by Additional Secretary, Ministry of Petroleum & Natural Gas.
Shri Rajive Kumar, Additional Secretary of Ministry of Petroleum visited the site on 9th January 2014 at 12 noon in MUA-2 shaft side, where a floral bouquet was presented to him from the JV.
Mr. Rajive Kumar and Mr. HPS Ahuja in the
centre of the line-up.

---
Citation received from Chief Executive Officer, ISPRL

26th November, 2013
'Citation' received from Mr. Rajan K Pillia, Chief Executive Officer, ISPRL for achieving Ten Million Safe Man Hours as on 26th November 2013.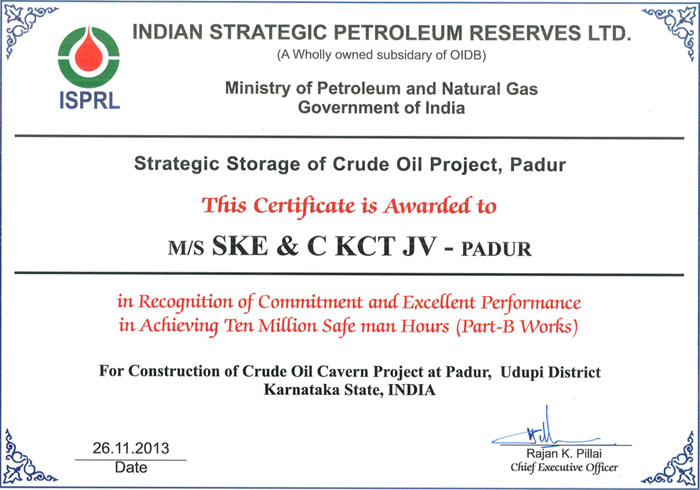 ---
Conference on Reorganising The Indian Coal Supply Chain at Radison Blu, Nagpur organized by mjunction

21st June, 2013
Conference held in Nagpur on 21st June, 2013. Mr Arora made a presentation on Logical/Logistical issues to move Domestic/Imported coal. He was also one of the panelists during Panel Discussion on 'Consumer's Perspective.

Mr V K Arora


Mr V K Arora


Mr V K Arora presenting memento to Mr Rahul

Prithiani, Crisil


Mr V K Arora presenting memento to

Mr D C Garg, CMD, WCL


Mr V K Arora with Mr Gurudas Mustafi. MBE Coal

and Mr Jagnania, CMPDI


Mr V K Arora with Mr D C Garg, CMD, WCL and

Dr M R Anand, Economic Advisor of Ministry of

Coal


Section of the audience
V K Arora Karam Chand Thapar & Bros(Coal Sales)

---
Interactive Session with Chairman cum Managing Director, Singareni Collieries Co. Ltd. at Bengal Chamber of Commerce

20th April, 2013
Interaction with CMD, SCCL in regard to future plans of SCCL and the emerging scenario in the mining sector in India.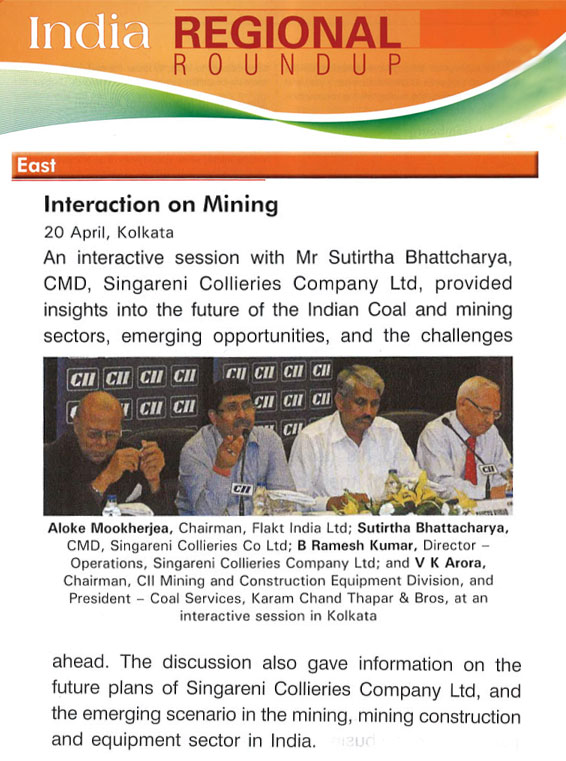 ---
McCloskey & mjunction Indian Coal Markets Conference and Awards Dinner

27th September, 2012: The Oberoi, New Delhi
---
BWF earns Audit Certification for ISO 14001 - OHSAS 18001

27th May 2013: Ranchi, India

---
Interview on various facets and developments on land availability and acquisition – Coal Insights Magazine March 2013 Issue

21st January, 2012
Interview with the correspondent of Coal Insights Magazine regarding land availability and acquisition which has emerged as one of the biggest roadblocks facing the Indian Industry.

---
International Mining and Machinery Exhibition, 2012

05-08 December 2012, Salt Lake Stadium Grounds: Salt Lake, Kolkata, India
To reposition BWF with the product mix a Stall was taken at the IMME'12 where all products were shown on display with technical details. Some major products like Man Riding Chair Lift system and Feeder Breaker were displayed as miniature model for all to have a glimpse. The Stall was immense success and appreciated. Business interactions with cross section of buyers and sellers took place. Many dignitaries visited the Stall and appreciated the design, display and professionalism. Few of such dignitaries were:
Mr. S K Srivastava, I.A.S., Secretary, Min of Coal, GOI
Mr. D C Garg, CMD, WCL
Mr. P K Roychoudhury, Director (Tech) SECL
Mr. B Ramesh Kumar, Director (Tech) SCCL
Dr. Prof S Bhattacharya, ISM, Dhanbad
In addition, many Business Heads from the private Corporate Sector visited the Stall.

BWf Stall Front View

BWf Stall Side View

BWF Team with Mr. Varun Thapar

Dr. S Bhattacharya, Professor - ISM

Mr. D C Garg CMD - WCL

Mr. B Ramesh Kumar, Director - SCCL

Mr. P K Roychudhury, Director - SECL

Mr. R Misra, CMD - HEC

Mr. S K Srivastava, Secy - Min of Coal

Mr. Varun Thapar, Vice Chairman
and Executive Director

---
Banking on Coal

06 December, 2012: Kolkata, India

The Economic Times
---
McCloskey & mjunction Indian Coal Markets Conference and Awards Dinner

27th September, 2012: The Oberoi, New Delhi
---
Gold Sponsor Seminar on "Sustainable Mining – The Road Ahead"

8th September 2012: Ranchi
The seminar was aimed at sustainable mining. BWF came ahead to sponsor the great cause in mining segment.

---
BWF and Schenck Process India Ltd. signs an agreement

24th August 2012: Kolkata
BWF and Schenck Process India Ltd. signs an agreement to jointly participates for future bidding in coal preparation and handling plants in India.

---
National Underground excavation record at Project Mangalore in addition Project Padur comes in with the 1st and 2nd Highest Excavation Record in India!

August 2012: Mangalore and Padur Caverns, India
Project at Mangalore has achieved the highest Underground Excavation of 117,033 cu.m. in complete safety in the month of July-Aug, 2012 and has created a new National record and we would be striving to break it the next month and looking forward to new benchmarks in the coming months.

Padur Project has done very well for the period July-Aug, 2012 and has achieved the second highest excavation of 110,332 cu.m., exceeding the monthly target for the month for Padur.

This is a twin achievement for us…

Messages of congratulations are pouring in from the Owners ISPRL and PMC Engineers India Limited.

We share our joy with you all!

---
IMT Memorial Dinner with friends and business associates of Mr I M Thapar
13 July 2012, Ringhotel Stadtpark, Luenen, Germany
Mr V K Arora with Mr I M Thapar's friends at
I M Thapar Memorial Dinner
Mr V K Arora with Mr I M Thapar's friends at
I M Thapar Memorial Dinner
Mr V K Arora with Mr I M Thapar's friends at
I M Thapar Memorial Dinner
Mr V K Arora with Mr I M Thapar's friends at
I M Thapar Memorial Dinner

---
Civil Works for Underground Rock Caverns (Part B) for Strategic Storage of Crude Oil Project

01 July 2012, Padur
Cavern Bench (PUB41B1-E2) : Pre-Grouting Drilling
Cavern Bench 1 (PUA31-W4) : Post-Grouting
Cavern Bench 1 (PUB41B1-E1) : Rockbolting
Cavern Bench 1 (PUA32B1-E2) : Invert Grouting
Drilling
Cavern Bench 1 (PUA32B1-E2) : Loading
Cavern Bench 1 (PUB42B1-E2) : Scaling

---
Interaction with Mr N C Jha, Chairman, Coal India Ltd.

21 January, 2012, Bengal Club, Kolkata, West Bengal
Confederation of Indian Industry had organized an Interactive Session with Mr N C Jha, Chairman, Coal India Ltd. Interactive Session moderation was by Mr Aloke Mukherjea, Past Chairman, CII Eastern Region. Closing remarks by Mr V K Arora, President- Coal Services as also Vice Chairman, CII – Mining Construction Equipment Division. The Session was well attended by the big-wigs of Indian Industry. Cocktails and adjourn was sponsored by us.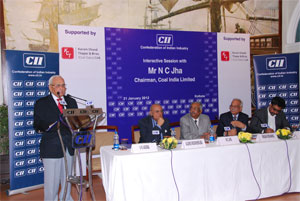 Mr. V K Arora addressing the gathering

---
Invitation as Speaker for "Improving SCM to make India Trade Competitive" session for Indian Institute of Foreign Trade's National Trade Symposium

04 November, 2011, Swissotel, City Centre New Town, Kolkata, India
Mr V K Arora, President- Coal Services was invited as Speaker for "Improving SCM to make India Trade Competitive" session for Indian Institute of Foreign Trade's National Trade Symposium. The Indian Institute of Foreign Trade (IIFT), a deemed university established in 1963 under the Ministry of Commerce, Government of India, is one of India's premier B-schools, with a heritage of more than four decades in imparting quality education in the field of business management. In light of its contributions to the global business environment, IIFT holds the coveted position of being India's leading school of International Business.

---
Speech given Mr. Arora at ICMA, AGM

26 September 2011,
Bengal Chamber, Kolkata, India
Mr. Jha, Distinguished
Guests and Friends,

It is with great pleasure I welcome all of you to the Eightieth Annual General Meeting of our Association today. This year, we have reached an important milestone as the Association has completed 80 years of service to the country's coal industry and trade.

Today we have the pleasure of welcoming Mr. N. C. Jha, Chairman, Coal India Ltd. He has been keeping extremely busy for the last few days because of which the date had to be postponed. Nevertheless, we are extremely happy to have Mr. Jha with us today and it will be good and useful for us to interact with him on important matters concerning the policy of coal marketing in India.

Mr. Jha is veteran mining engineer with rich and varied experience in coal industry for over 3 decades. Mr. Jha has left his mark in the evolution of coal industry as well as Coal India Ltd. Mr. Jha has had a long stint in CMPDI and then rose to become Director Technical of Coal India and for sometime also held the additional charge of CMD of SECL for 9 months. For an important company like CIL, he is today acting as not only Chairman CIL but Director Technical and Director Marketing. As his friend and well wisher, I would have wished that he had been provided with adequate assistance but then the Government has its own way of working and given the limitations, Mr. Jha has given a very good account of himself.

I am also expressing our sincere thanks to our respected guests, dignitaries, our member-brethren and also to the members of the press who are with us today. I am greatly encouraged by the presence of senior officers from Coal India, its Subsidiaries, the Railways and many VIPs. This shows the degree of confidence and respect which coal commands in the daily lives of a common man.

Coal consumers and coal agents:
Friends, it is seen that services of the coal agents are sometimes not properly understood. I would like to give a small brief on this. Much before the coal nationalization beginning in 1971, our Association ICMA came into being in the year 1930. All through these times, coal agents have been providing a useful link between the coal producing centres and the coal consuming centres. A need thus has been felt to find a supplier of coal for the buyer and a buyer for the supplier. A coal agent therefore has to remain in close touch at these two points at the same time . This is no small task. He has to ascertain requirements of the buyer qualitatively and quantitatively, then arranges with colliery and goes through the ordeal of completing formalities for procuring railway wagons, supervises the weighment part and arranges prompt payment for quick despatch of coal at the consumer's door. In fact, even after the nationalization of coal, our Association's role has remained as before. Today, our Association ICMA is reckoned as the most representative body of independent coal agents. As for generation of employment, ICMA and its members are contributing meaningfully to the country's economy by providing employments to large number of people directly and indirectly.

The Indian Economy:
Before I speak on coal, let us have a quick glance of our country's economy. Indian economy has shown great resilience and has been on a sustainable growth path. As per the revised CSO estimates, GDP growth in 2010-11 was 8.5% as against 8.0% in 2009-10. For the ongoing year, it is expected that GDP growth would see a moderation of around 8.5% again which is lower than the projected 9% as has been stated in the Hon'ble Finance Minister's Budget Speech this year. There is prediction of a normal monsoon and the growth in agriculture sector is giving a positive signal. The manufacturing and services sectors are also at high growth trajectory.

The developments on the inflation front however remain a cause of concern and efforts are being made to contain the inflation by hardening interest rates and other strict fiscal measures.

Coal output:
Implementation of a tighter environment-related regulation by environment ministry since early last year, has very severely impacted expansion in the domestic coal production. Country saw practically zero growth in coal production last year. As against 532 million tonnes during 2009-10, production in 2010-11 stagnated at 533 mill. tonnes against a target of 565 mill. tonnes. The fact is, when demand for coal during 2004-05 to 2009-10 grew at an average 8% annually, coal output during this period expanded at 7% a year. We fear that a somewhat static condition in production during two consecutive years of 2009-10 and 2010-11, may have a cascading effect also for the ongoing year 2011-12 which is terminal year of the XI-Plan Period. Coal production initially targeted at 680 mill. tonnes by Planning Commission for 2011-12, has been pruned twice first at 630 million tonnes and now finally lowered to 554 million tonnes. Because of huge cut-back in production programme for a situation beyond control, there is now revised estimate by Planning Commission that India's coal shortage of around 140 mill. tonnes by 2011-12, may soar to even 200 mill. tonnes by XII-Plan end in 2016-17.

As for the main producer, Coal India Ltd.(CIL), accounting for over 80% of national coal output, the growth in production was 'near zero' during 2010-11 versus 2009-10, with a little over 431 mill. tonnes output against the recently revised target of 440 mill. tonnes due to green hurdles. For the current fiscal 2011-12, CIL was keen to achieve coal production of 520 million tonnes but for same environmental constraints, this got scaled down twice – first to 486 mill. tonnes and now finally pegged at 452 mill. tonnes; this means a likely addition of 21 mill. tonnes from last year's production of 431 mill. tonnes. It could perhaps be said that despite environmental hurdles, it will be an achievement, if it can go to a level of 452 mill. tonnes.

However, a near-stagnation scenario in the country's UG production and coking coal production has been continuing for long. We are sure, Coal India is very much alive to this but what is seen in practice that open cast mining is still a preferred choice. Underground coal raising that at one time – during the seventies, was above 70% of net coal output, is now hovering in the region of 11 to 12 per cent. A further worsening situation is emerging in coking coal output, now hardly at 8 to 9%. Sir, we hear plenty of proclamations that with lot of investments having taken place, the underground production alongside coking coal output will be stepped up. Unfortunately, performance in these two areas does not match the proclamations and large number of industries - very much dependent on coal in these two areas, continue to suffer and country's import bill jumps every year. We would urge CIL that thrust for UG mining that works on lesser land area and still gives better quality of coal, be taken up with all seriousness to get away from a prolonged stagnation.

Singareni Coal:
Friends, you are aware, Singareni Collieries Co. Ltd.(SCCL) by now, has emerged as a responsible coal company, accounting for over 10 per cent contribution in the national coal output. During last 4 years, SCCL has stepped up its production quite substantially – from 40 mill. tonnes in 2007-08 to 45 mill. tonnes in 2008-09 and then to 50 mill. tonnes in 2009-10. During 2010-11, there was setback in their OC production because of heavy rains in the mining areas and overall production suffered because of ongoing limitations on the environmental front. Despite all such odds, SCCL could still touch coal production of 51.3 mill. tonnes during 2010-11. SCCL has plans to start several new mining projects in 2011-12 and that will give an additional 4 mill. tonne production capacity. Because of their good corporate governance and gradually bringing in modern production techniques in UG mines, SCCL today has ranked among the top mining companies in the world.

E-auction of coal:
Friends, e-auction of coal has now once for all come to stay and the scheme is working satisfactorily. At a time when small consumers not enjoying linkages, were occasionally remaining starved of supplies, re-introduction of the e-auction scheme has come as a boon to them. Even though some consumers, mostly power producers in private sector favour discontinuation of e-auction sales, we note with much satisfaction that the Hon'ble Coal Minister has ruled out such a possibility and coal presently being sold by CIL through e-auction route under Order of the Supreme Court, will continue. It is a fact that non-regulated sectors procure a sizable quantum, of 25 to 30% of their requirements, from the open market and continuation of e-auction sales has come a saviour to them. E-auction sales have now stood the test of time and is for mutual interest. Whilst buyer has the assurance of their getting supplies at some increased price of around 20% over the notified price, seller also gets the opportunity to liquidate their enormous stockpiles and thus make handsome profits in the process.

Friends, it is to be noted that amid a situation when during 2010-11, Coal India's production was flat at 431 mill. tonnes, it earned an excess of 81% on notified prices through e-auction as against 63% in previous fiscal and as a result, CIL's income from e-auction during the year came to a whooping Rs.8,891 crores with net profit at Rs. 4,025 crores.

I've said that e-auction price has been kept at higher mode in fact to allow the market-oriented price to come into play. Now friends, if we take it for the sake of argument that this 'market price' can be stretched to any length until saturation is reached then we fear the day is not very far when a serious situation may loom large on the economic working of the vast number of non-regulated industries and this will percolate down to the country's entire economy. This is particularly relevant when from 27/2/11, CIL more than doubled the notified prices of Gr. A & B coal.

Friends, when price of coal is already going high and under e-auctions, is further pushed up and often going beyond the reach of the customers, it is my request to the Chairman, CIL to look into this area dispassionately. Customer's pockets are not deep and ultimately, it is the man on the street who pays for the coal.

Coal supply constraints:
For some time non core sector consumers and their accredited agents are plagued with several irritants and I state as follows –

Recent hike in prices:
Recent hike in prices of Grade A and B by 150% and the others by 37% has hit the industry very hard particularly those linked to A and B grades of coal. The price was hiked on the plea that Indian coal was still cheaper as compared to imported coal. This is a fact but I would like CIL to appreciate that incase of imported coal, the quantity and quality is assured at the destination whereas in CIL, you have to pay for the declared grade which unfortunately is one to two grades higher than the actual grade, there are elements of shortages of atleast 2-3%, there are incidents of penal over loading and underloading. We may not have a problem to pay the increased price provided the same level of integrity is maintained in terms of quality and quantity. It may be of interest to know that imported coal is now working out to be cheaper than Indian coal for A and B grades, and lot many of the consumers have switched to imported coal.

Trigger level compliance:
At the time of entering fuel supply agreements (FSAs) with the consumers, CIL after applying a trigger level mechanism, fixes the ACQ (annual contract quantity). This trigger level is a varying quantity – 90% for power, 60% for non-power i.e. non-core sector and 50% for the new consumers. Since trigger level means a prescribed percentage of contract volume that supplier will supply and consumer will lift by road or rake failing which penalty will be imposed on one who defaults, the fact is, a reduced ACQ for low trigger level, is very much hurting the non core consumers today.

Overloading and Underloading:
The carrying capacity of the wagons has been time and again increased and this results in underloading charging of excessive nature and also penalties in case of overloading – a situation totally beyond control of the consumers and their agents. Coal consumers feel the pinch more when there is now a steep 200-250% increase in the grade A/B coal prices and for ECL coal consumers, they are to bear an additional WB Cess of Rs.500/tonne, effected from April this year. It is only expected that in an all-round price hike scenario as is today, coal consumers be given a fair treatment with regard to loading of wagons. I may not be mistaken to give your one recent experience that as against a permissible 'cc' of wagon of 65+2 MT, loading from UKA-V was at 60-61 MT and that too of poor quality with the result that consumers had to suffer substantial underloading charges plus a dead freight payment running into lakhs of rupees.

To combat this difficulty, what is needed today is a strong and strict monitoring of test weighment of wagon regarding determination of its 'cc' and this be done on a regular basis by a committee with representatives drawn from Railways, Coal India and the consuming industries. When consumers are asked to pay high price for coal which they are also not hesitant to do, it is only required that they are not made to suffer a/c these two criterions, quality and quantity and in name of 'B' grade, they are not thrust with D or E grade coal.

Weighbridges in disarry:
Friends, we have reports that there is manipulation of the Weighbridges that are owned and manned by both Coal Companies and the Railways, always to swing results in favour of the collieries. This is being practised in collusion by a section of coal loading/ siding staff and railway staff who are posted at the Weighbridge points for issue of invoices and this tarnishes good image of coal and rail. I would only urge CIL and the Railways to jointly initiate some strong measures regarding this vexed issue. Although CIL appears receptive to this and has resorted to surprise checks of loaded rakes on random sample basis, yet enough has not been done to alleviate miseries of the consumers.

Railways:
Friends, in total revenue earning traffic, coal still dominates with a steadily increasing share (in tonnage terms) from 44.3% in 2008-09, to 44.6% in 2009-10 and to further 45.6% in 2010-11. This improved growth in coal traffic definitely speaks of an improved monitoring of the Railways, Coal traffic is expected to further look up provided the several deterrents standing in its way, are removed to make consumer's life easier. There is need to strengthen infrastructure for loading and unloading of coal at he collieries and sidings. One silver-lining is, supply of empties has to some extent improved. Against 158 rakes per day made available last year in April/10, CIL has received 181 rakes this year in April/11, still 10 rakes short of its expectation. Loadability factor and minimum chargeable weight of wagon, is important matter as I've said earlier. Increasing 'loadability' stipulated by the Railways regardless of the actual capacity, is to be taken note of with all seriousness.

Friends, with these words, I shall now close. I have spoken to you about some matters that are worrying us today.

I would express my sincere thanks to the CIL Chairman, Shri N. C. Jha and all officials of the coal ministry, CIL and its Subsidiaries and the Railways for their help and cooperation all along . I am grateful to the members of the Press who have always taken keen interest regarding country's coal matter in which our Association has played an important part.

I would thank my esteemed colleagues on our Executive Committee and the Sub-Committees for sharing their wisdom and expertise during my tenure in office. Our Senior-Vice President, Mr. Rajan Arora is not in Kolkata today. In this also, my friends who guided me constantly are Mr. V. K. Ailawadi, Mr. A. P. Jain, Mr. P. C. Bhutoria , Mr. Naresh Ojha and Mr. Dipak Shah. I've no hesitation to say that but for their enormous help, cooperation and guidance that I enjoyed from them, my work would have been difficult. Once again, I am expressing my very grateful thanks to each of them.

Last, I place my appreciation for the good work of our staff.

Thank you

---
Indian Coal Merchants' Association, Annual General Meeting

26 September 2011, Bengal Chamber, Kolkata, India
The Annual General Meeting was held on 26th September, 2011 at 11-45 A.M. at Palladian Lounge (3rd Floor) on the Bengal Chamber premises at 6, N. S. Road, Kolkata.
| | | |
| --- | --- | --- |
| | | |
| President, Mr V K Arora welcoming Mr N C Jha, Chairman, Coal India Ltd. with a flower bouquet | | (from left to right) Secretary ICMA, Mr S K Ghose, President ICMA, Mr V K Arora, Chairman Coal India Ltd., Mr N C Jha and Vice President ICMA Mr V K Ailawadi |
| | | |
| | | |
| President ICMA, Mr V K Arora, Executive Director, KCT, Mr Varun Thapar and Mr Avinash Sahai of Takraf | | Mr V K Arora and Mr N C Jha |


---
SKE&C-KCT JV, Padur has got the best site award from ISPRL out of their four sites: Vizag, Mangalore, Padur Part A & Padur Part B.

15 August 2011: Independence Day Awards
Mr N Bala, Chief Manager ISPRL - Vizag and Mr Sunil, Manager ISPRL - Vizag, have been conferred with the awards of Gold Performer and Silver Performer of the Year 2010-11, respectively, from the CEO of ISPRL, Mr Ranjan K Pillai.

Mr Pillai, also adds that the team member should take a cue from their style of working, in the years to come and aspire for this highest honour which is a recognition of meritorious work.

The award for the Best Site has been bagged by SKE&C-KCT JV, Padur and a certificate of appreciation has also been awarded from CEO, ISPRL. Mr JM Lee, Project Manager who along with his team has ensured that site is impeccable in all respects.

---
India's First Sandvik DT1130 Jumbo Rig Delivered to Major Cavern Project

July 2011: Mangalore Caverns, India
Fourteen Sandvik underground jumbo drill rigs are being used on India's three strategic crude oil storage caverns under construction, in drill and blast duties to excavate more than 9 million m³ of rock from the 24.4 km of tunnels and caverns to store 5.33 million metric tonnes of crude oil. Deputy Project Manager for the S K E&C - KCT JV on the Padur project contract 1B,
Prasanna K.M,
has stated that the Sandvik rigs represent "the lifeline of the project."
News Article...

---
Mangalore Cavern Projects

01 March 2011: Mangalore Caverns, India
| | | |
| --- | --- | --- |
| | | |
| Scaling MUA1-East | | Face Drilling MUA1-West |
| | | |
| | | |
| Shotcreting | | Explosive Charging |
| | | |
| | | |
| Shotcreting MUA1-West | | Mucking |
| | | |
| | | |

---
Mangalore Cavern Projects

19 December 2010: Mangalore Caverns, India
D 355-A Dozer Deployed for Dumping area Muck
Levelling
Re-Inforcement Rod Fitting in the 4th Lift for
Shaft' B'
Concrete Foundation Casted for Gantry Creane
Erection near Shaft 'B'
Second Lift Concrete Poured in Shaft 'A'
Pre-Fabricated Steel Structure and Gypsum Board
Installed by M/S Nig and Richi for Labour Colony
at Msez Area

---
Mangalore Cavern Projects

26 September 2010: Mangalore Caverns, India
Access Tunnel

Water Curtain
Portal Area

---
Tehri dam brims over, North India under flood threat

20 September 2010: Tehri Dam
TICIL Division, one of the key contractors, is proud that Tehri Dam has stood the rigors of heavy rainfall and flooding in Uttarakand. "Tehri dam's general manager (projects) A. L. Shah said, " The dam is safe and there is no need to worry." Further, officials have staggered the automatic discharge system so as not to cause heavy flooding in downstream towns such as Rishikesh and Haridwar. Enclosed, are pictures of the water being discharged through the spillways."
more details...

---
Engineers' Day Celebration at Tehri Project

15 September 2010: KCT Gajna Campus, Tehri Site
Engineers' Day was celebrated by the TICIL team both in Delhi and Tehri. Officers took time to remember Sir Mokshagundam Visvesvaraya and his contribution to the nation.
Sir Mokshagundam Visvesvaraya
Mr. S. Saran, VP - Marketing, Mr. R. N.
Mukherkjee, COO addressing colleagues at TICIL,
New Delhi.
Program was started after lighting the candle by Mr A K Aggarwal General Manager (P) and offering flower to Sir M. Visvasvaraya. On this occasion General Manager (P), Mr A K Aggarwal appealed to all Engineers' to follow the footprints of Sri M. Visvesvaray and to contribute their full in progress of the nation and our company. The function was dispersed with thanks to all participants.
Mr. A. K. Aggarwal, Director - Projects, addressing
TICIL Employees on the occasion of Engineers' Day
Mr. S. D. Singh, DGM (Civil) addressing TICIL
Employees on the occasion of Engineers' Day.
Participants on Engineers' Day at TICIL
Campus, Tehri

---
Inauguration of the Access Tunnel

06 September 2010: Rock Cavern Project, Padur
On the 6
th
September 2010, the Access Tunnel at the Rock Cavern Project at Padur, was inaugaurated by Mr. Rajan K. Pillai, CEO, ISPRL.

---
Vice President awarded with National Level Award

29 July 2010 : Hindi Bhawan, New Delhi, India
The Healthy Universe Foundation has awarded Mr. Samir Saran, the Vice President, TICIL, Karam Chand Thapar & Brothers (Coal Sales) Limited, the National Level Award - "Pride Of Nation" for "Business Excellence" for his contribution towards National advancement.
This prestigious award was given to him by Mr. Jai Prakash Agarwal, Delhi Pradesh Congress Committee (DPCC) President and Member of Parliament serving the North East Delhi (DL) Lok Sabha Constituency.

---
SKE&C-KCT UJV successfully conducted its first blast

15 July 2010 at 3.55 pm: Padur Cavern Project
On 15th July 2010 at about 3.55 PM – the Padur JV Team have successfully conducted the 1st blasting activity at Padur Cavern Project (Part-B). Padur JV team has performed the dynamic blasting event twice per day.

---
82nd AGM of Indian Chamber of Commerce

02 July, 2010: Hotel Oberoi Grand, Kolkata, India
Karam Chand Thapar & Bros. (Coal Sales) Ltd. was one of the Co-Sponsors for the Annual Session & 82nd Annual General Meeting of Indian Chamber of Commerce held on Friday, 2 July 2010 at Hotel Oberoi Grand, Kolkata.
Dignitaries like:
Shri Kamal Nath|Hon'ble Union Cabinet Minister| Ministry of Road Transport & Highways|Govt. of India
Shri Sriprakash Jaiswal | Hon'ble Union Minister of State (IC) | Ministry of Coal and Statistics & program Implementation | Govt. of India
Mr. Sunil Mitra | Secretary | Department of Revenue | Ministry of Finance | Govt. of India
Mr. Sumit Bose | Secretary | Department of Disinvestment | Ministry of Finance | Govt. of India
Mr. Partha S. Bhattacharyya | Chairman | Coal India Limited
were some of the eminent speakers of the annual session, who spoke on the theme – "Promoting Growth through Reforms, Infrastructure & Manufacturing"

Lifetime Achievement Award was presented to Dr. R. P. Goenka, Chairman Emeritus, RPG Group.

---
"India Coal Report"

14 June, 2010: Kolkata, India

The Economic Times
"Mjunctionedge" – the knowledge division of Mjunction Services Ltd. in association with The Economic Times, published a high end report on the Indian Coal Sector.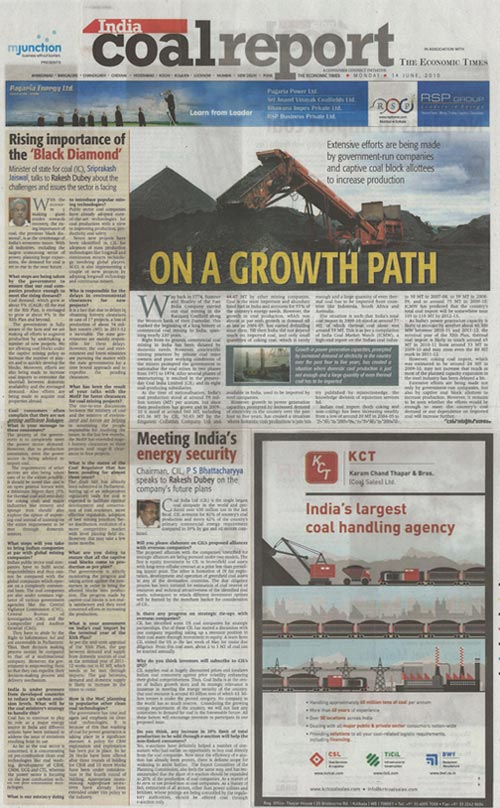 ---
KCT bags the award for Largest Exporter in Annual Felicitation to Port Users

19 May, 2010: Port Officer's Club, Paradip Port Trust
| | |
| --- | --- |
| Karam Chand Thapar & Bros. (Coal Sales) Ltd. is engaged in stevedoring and exporting coal via Paradip port for the last two and a half decades. Between 2001 - '02 and 2009 - '10, KCT handled a quantity of 76.26 million tons of coal for Tamil Nadu Electricity Board alone apart from handling for Andhra Pradesh State Electricity Board as well. As a recognition of KCT's performance, Paradip Port Trust has awarded largest Exporter among all the commodities that exported from Paradip Port continuously from 2001 - '02 to 2009 - '10 | |

---
Merchants' Cup Tennis Competition 2009

10 to 15 May, 2010: Calcutta South Club Ltd.
Merchants' Cup Tennis Competition 2009, a contest for the 'Merchants' Cup' among teams invited from Kolkata based organizations, held at Calcutta South Club Ltd. from 10th to 15th May, 2010. Mr. V. K. Arora, Vice President, Karam Chand Thapar & Bros. (Coal Sales) Ltd. and Mr. G. K. Mukerjea, CEO, Indicon Logistics Ltd. (A KCT Group Enterprise) represented KCT as a team.

---
SKE&C-KCT JV bags Rs.376 crores contract of ISPRL's Crude Oil Storage Project

29 December, 2009: Padur, India
SKE&C-KCT JV on 29th December 2009 bagged Rs.376 crores Project for civil and piping works of Underground Rock Caverns (Part B) for strategic storage of crude oil at Padur, Udupi, Karnataka from M/s. Indian Strategic Petroleum Reserves Ltd (ISPRL).
KCT [Karam Chand Thapar & Bros. (CS) Ltd] entered into a Joint Venture with SKE&C (SK Engineering & Construction) a subsidiary of SK Group, Seoul, Korea to bid for Underground Rock Cavern Projects in India.
This is the second Work Order from ISPRL to SKE&C-KCT JV, subsequent to similar Project at Mangalore worth Rs.403.50 crores, awarded in April 2009.
The Padur Project involves construction of Storage Caverns consisting of:
1 No. Access Tunnel of 1119 M length, 12 M width & 8 Mt height.
4 Nos. Rock Caverns each of 700 M length, 20 M width & 26-31 M height.
4 Nos. Vertical Shafts each of 62 M - 84 M length.
1 No. Water Curtain Galleries of 1788 M length, 6.5 M height & 6.5 M width.

---
"Towards Greater Commitment"

04 September, 2009: Kolkata, India
The Economic Times

---
Seventy-Eighth Annual General Meeting of ICMA

28 August, 2009: Kolkata, India
Address by the President, V.K. Arora
CIL Chairman, Mr. P S Bhattacharya (left);
ICMA President, Mr. V K Arora (centre); CIL
Director, Marketing, Dr. A K Sarkar
ICMA President, Mr. V K Arora, presents CIL
Chairman, Mr. P S Bhattacharya, with a bouquet
Address by Mr. V K Arora

---
"Work on City's Crude Oil Cavern Begins"

28 May, 2009: Mangalore, India
The Times of India

---
ISPRL Mangalore Rock Caverns

06 April, 2009: Mangalore, India
TICIL is proud to announce that it has won a prestigious contract for the Civil Works of the Underground Rock Caverns for the strategic storage of crude oil (1.5 mn MT/ 14mn barrels), at Mangalore, Karnataka, from Engineers India Limited ("EIL"), for Indian Strategic Petroleum Reserves Limited ("ISPRL").
TICIL secured this bid in a 'Reverse Auction' held on 6 April 2009, for Rs.403.50 crores, in a Joint Venture with S.K. Engineering & Construction Co. Ltd., ("SK E&C"), Korea, against industry majors such as L&T, HCC and Soma-Marti of Sweden, amongst others.
Salient features of the 'ISPRL Mangalore' major underground construction work are as follows:
4 Nos. Rock Caverns of 913 m length, 20 m width and 26~31 m height;
2 Nos. Vertical shafts of 121~131 m length and 7~10 m diameter;
4 Nos. Water Curtain Galleries of 920 m length, 6.5~9 m width and 6.5 m height;
1 No. Access Tunnel of 900 m length, 12 m width and 8 m height;
2 Nos. Gas Connections of 4 m x 4 m; and
2 Nos. Inlet/ Outlet Connections of 7 m x 8 m.



---
ISPRL Padur Rock Caverns

27 March, 2009: Padur, India
TICIL has also submitted a 'Pre-qualification Bid' with SKE&C on 27.03.2009 for the Civil Works for the next stage of Underground Rock Caverns for Strategic Storage of Crude Oil (2.5 mn MT) for ISPRL, at Padur, a distance of 40 kms from the Mangalore Project site. This Project is in Two Packages, Part-A and Part-B, which will be bid for independently. The Final Price Bid/ Reverse Auction for this tender is expected to take place in November 2009.



---
International Mining and Machinery Exhbition ("IMME") 2008

5-8 November, 2008: Kolkata, India
---
Global Mining Summit

6-7 November, 2008: Kolkata, India
---